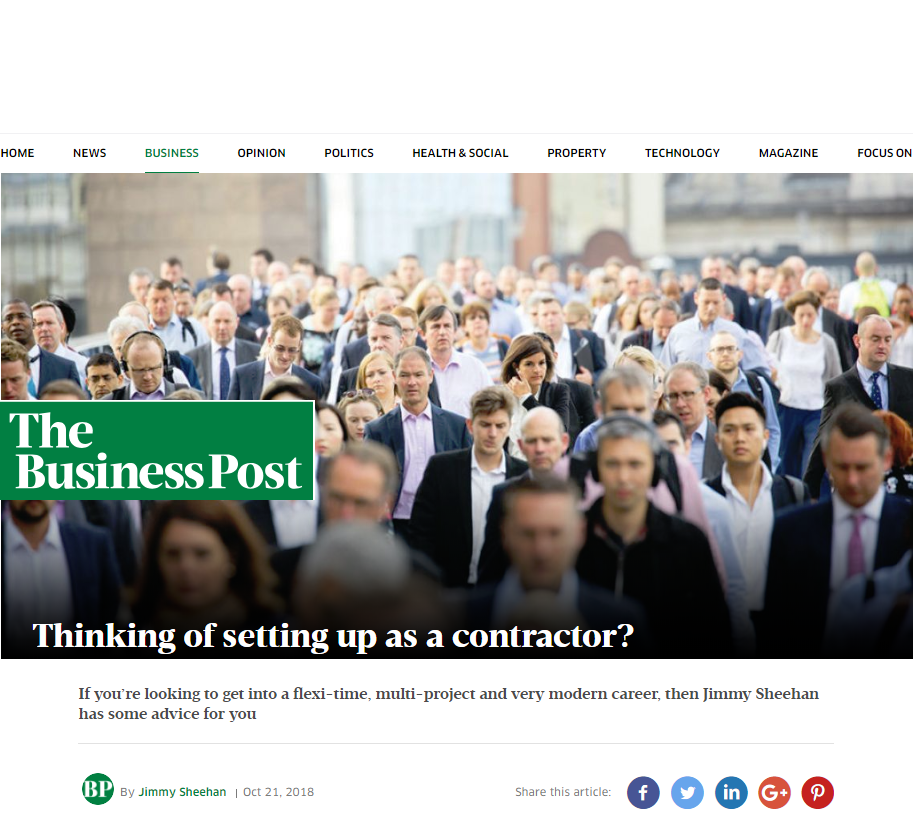 Thinking of Setting Up as a Contractor?
Posted Monday, October 22, 2018

Read the below article by our Commercial Director, Jimmy Sheehan, which was printed in the Sunday Business Post on 21st October.

Contracting is having a bit of a moment. Over the past while, it's been mooted as a solution for working parents, those who want flexibility and work/life balance, and for the over-55s whose employment contracts are ending, but who have no desire to quit work.

But while the range of people considering contracting has expanded in recent times, in reality it's been growing in popularity for around 15 years. So what exactly is it, and more importantly, is it right for you?
What is a contractor?
Terms like the gig economy, contingent workers, freelancers and self-employed professionals all essentially mean the same thing – that someone is providing a specific service or expertise to one or many clients on a flexible basis.
A contractor is essentially self-employed, although for various reasons it is usually best to operate through a limited company structure.
Why contracting?
A major attraction is having more control over your career, choosing the companies you want to work with, and the types of projects or roles. There is often the opportunity to work with exciting brands and businesses.
A big plus is the freedom to work when and where you want, and not having to commit to being in an office for 40 or more hours a week.
Some contractors do work normal 9-to-5 hours, and many work an equivalent, splitting their day to allow for school runs or other commitments or interests. Others work part time all year round or full time for nine months of the year, taking the summer off.
The skill sets needed
Putting yourself forward as an expert means you need to be experienced in a role or skill, and on top of the latest trends and technologies. The variety of contracts and different clients means a contractor quickly develops a wide experience base and a variety of competencies, something that just doesn't happen in a permanent position.
Contractors have more scope to develop their own skills and careers, rather than leaving career progression to the discretion of a boss or HR person who is more concerned with company success.
Job security
Not so long ago, a 'freelance' role would be shunned due to lack of security. But the promise of a job for life is no longer a realistic expectation for any worker, regardless of age. Companies cannot give guarantees, as evolving technology and changing roles mean some skill sets are becoming obsolete. Developing a specific skill set or unique knowledge that can be monetised means a better chance of having a steady stream of work. As you continuously fine-tune your skills, gleaning new ideas and processes, and working with multiple clients, you become more in demand.
Personal Traits
Determining if contracting is right for you requires honest self-assessment, because this way of working is not for everyone. It takes determination to win new clients, to sell yourself and your skills, and to manage work and deadlines efficiently.
As one of our clients puts it, there are pros and cons that can occur depending on what stage of life you are at. "Someone in their 30s with a mortgage and kids might perceive it to be a bigger risk. But the ability to choose your own workload is what I like. You commit yourself to clients and to a project, so you own it," he said.
"But if you're between contracts or sick then you're not getting paid, so you have to always plan ahead and have a cash reserve and things like income protection."
If you know you can do the job, and don't need the boss standing over you, giving instructions and direction, then you can probably consider contracting as a viable option.
Contracting can suit women returning to work after raising their kids. Multi-tasking mums make fantastically organised contractors.
Companies are also engaging more with the experience and expertise of retirees on a contract basis, as well as those taking voluntary redundancy. The wealth of knowledge these individuals represent is pure gold to many businesses large and small.
Suitable sectors
There is no specific industry or skill set that is unsuitable when it comes to contracting. Practically any skill set a business or organisation wants can be provided on a part-time, flexi-time or full-time project basis.
Certain roles do require on-site attendance though. In areas such as IT, engineering, pharma, medical and locum work, there is often a requirement to be on-site as a service provider, or as part of a project team.
In Ireland, contracting numbers are highest in IT, pharma and medical locum services, but there are big opportunities in finance, project management and marketing consultancy too.
The admin question
One headache that people worry about, or sometimes ignore, in terms of contracting is tax compliance and financial management. Not understanding what you need to do, and when, can mean unexpected tax bills and cashflow problems.
The advice is to get an accountant who understands the contracting sector and who can advise on everything from company set-up to payroll, insurances, year-end taxes and every other compliance headache.
Equivalent annual salaries are generally higher in contracting, but there isn't holiday pay, sick leave, pension contributions or other perks, and some social welfare benefits don't apply. But with good advice and forward planning, these issues can be overcome.
Essentially, you can plan work commitments to earn what you need, rather than working all hours to generously donate to Revenue at the top rate.
Plan ahead
A common mistake which new contractors can make is not planning effectively. Companies rarely come looking for you to work; you've got to go out and find the work yourself.
That means knocking on doors, so treat networking as a necessary tool for professional growth and job security. Develop networks according to your personal and career objectives.
Getting started
If you are considering contracting, use a recruitment agency to find a first project or client.
Many specialise in contracting, and most will have clients using contractors for different aspects of business.
Set aside funds to support yourself initially, although clients generally pay professional contractors promptly, and payment schedules are agreed before signing up.
Now is certainly a good time to try contracting, as skills shortages see companies look closer at flexible work options. If you start with a six or 12-month project and it's not for you, you can be in another new contract role or back as a PAYE worker within a year.
Jimmy Sheehan is Commercial Director at Contracting PLUS, which offers advice on the accounting, tax, legal and administrative aspects of contracting and which has offices in Dublin and Cork. See contractingplus.com
---