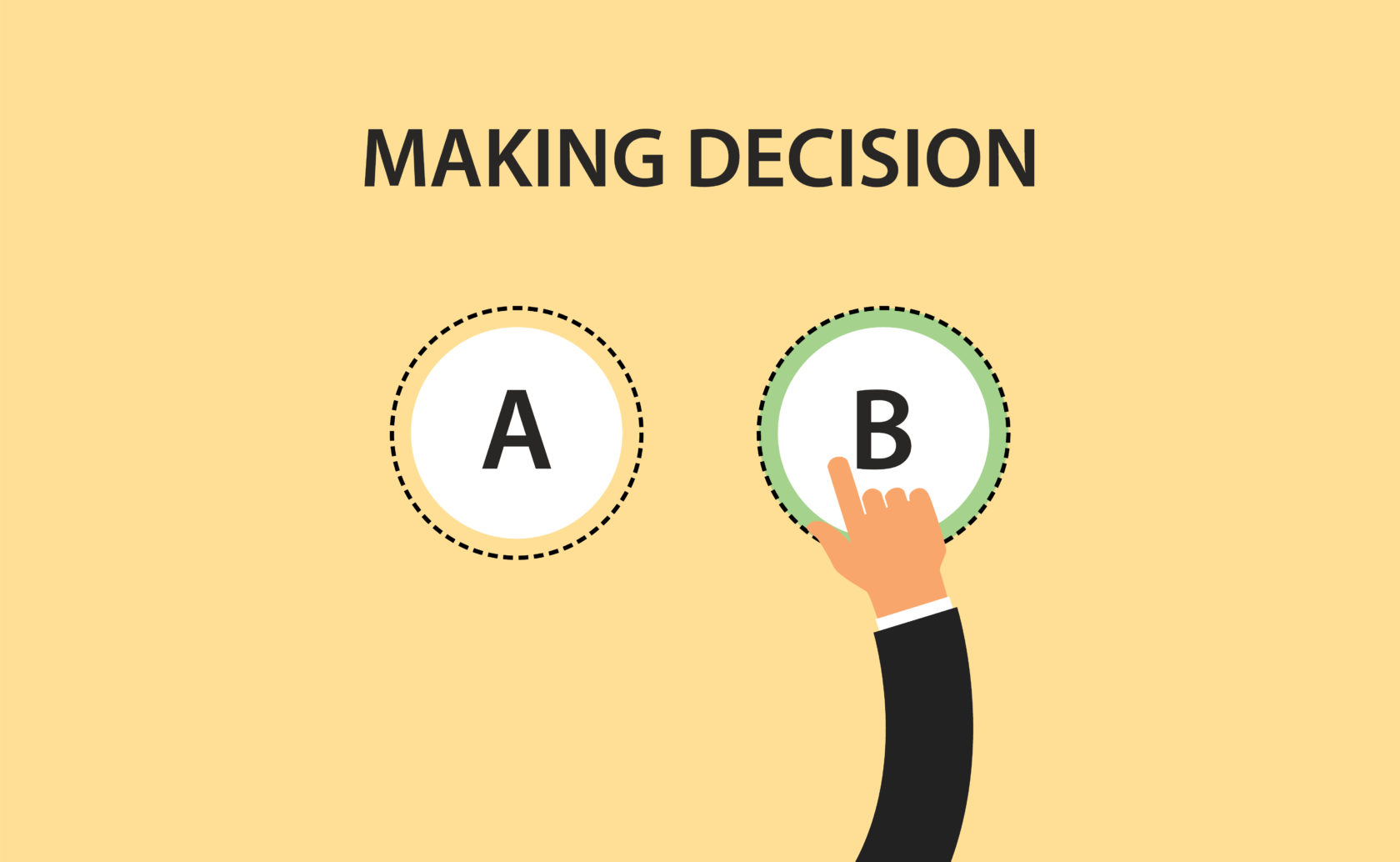 Should I use an Umbrella Company or a Personal Limited Company?
Posted Monday, December 2, 2019
By Jimmy Sheehan, Commercial Director, Contracting PLUS.
Professional Contractors typically operate through a limited company structure. This protects you personally, in the event of something going wrong. As a sole trader, you are the business. So if you do something wrong and your client wants to take a case against you, then everything you own is at risk.
However, operating through a Personal Limited Company or an Umbrella Company gives you limited liability. The risk is attached to the company and the company can only pay what it owns – all your personal assets and money are protected. The only case where you lose that protection if you have acted fraudulently.
There are any number of articles on google that talk about Private Limited Companies and Umbrella Companies.
We know if you're googling whether a Limited Company or an Umbrella Company is best for you, then you probably don't know a whole lot about either one. So rather than tell you the same things you may have already read, we're taking a slightly different approach. First we're going to explain the terminology you've likely come across and then we've a little table which helps you compare whether a Private Limited Company or an Umbrella Company is the best option for you.
Director
A company director is typically one of the employees of a company who hold a senior management position and has the responsibility and control to make decisions without conferring with others. For Professional Contractors this means that you can agree contracts with your client without the need for support from other directors in a company.
Shares
Shares are essentially units of ownership. If you own 100% of the shares of a company, then you own the company outright.
Shareholder
A shareholder is someone who owns part of the company. A single shareholder company is a company where all the shares are owned by one person.
Proprietary Director
A Proprietary Director is a director who owns at least 15% of the shares in a company. Under Irish Tax rules, once you are a proprietary director you are deemed to be self-employed.
Solvent
If a company is solvent it means it owns more than it owes.
Personal Limited Company
Also known as a Private Limited Company, this is a separate legal entity (which gives you limited liability personally). Typically as a Professional Contractor you will be the 100% owner of a Private Limited company. However, Contractors sometimes give a shareholding to a spouse/partner or business colleague. This is useful if you want to operate just one business unit and if they have complimentary skills. You still operate as individual Contractors using the Limited Company as your legal business structure. You will be classed as a Proprietary Director.
The company invoices the client you work for and the money is paid into the company bank account. The company owns this money. The company then uses this money to do things such as buy company vehicles, pay you a salary, make pension contributions on your behalf and reimburse you for business expenses you have incurred.
As a company director of a Private Limited Company, you have a responsibility to prepare and submit annual accounts to the Companies Registration Office, file tax returns and ensure the company remains solvent (or you can let Contracting PLUS look after all of this for you. One of our popular services is managing Limited Companies on behalf of Directors. This allows you to get on with your business while we take care of your administration).
Setting up a limited company only takes a couple of days once we have all the relevant information from you, but the tax registrations from the Revenue Commissioners can often take about 6 weeks to get. You won't be able to invoice your clients until you have a VAT number. You'll also need to open a business bank account in the company name, so your clients can pay your company for the work you have done.
If you finish contracting and decide that you never want to work as a Contractor again, then you need to legally close down the Private Limited Company.
Umbrella Company
The term Umbrella Company describes a company which is already set-up and has a bank account and tax registrations. It can be used by up to 6 different contractors at any one time.  When you need it, you 'step in under the umbrella'. When you finish contracting and no longer need to send invoices to your clients, you 'step out from under the umbrella'.
The Umbrella Company is managed and administered in full by a third party (Contracting PLUS) which means you have absolutely no paperwork to worry about.
There are two types of Umbrella Company; The Director Umbrella and the PAYE Umbrella. The operation of both is essentially the same, however the Director Umbrella Solution is more flexible and a much more popular option as you take home more money.
You will find a great explainer video on Umbrella Companies here.
The differences between an Umbrella company and a Private Limited company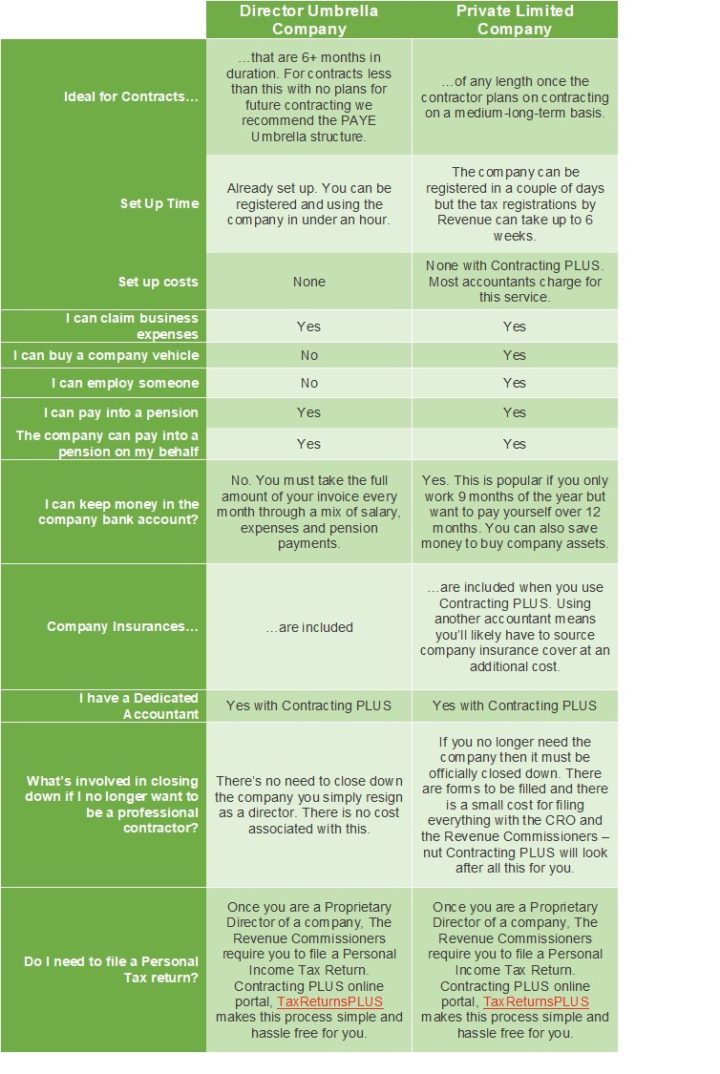 Hopefully this article has helped you decide which option is the right option for you, however if you have any further questions or need clarification on any point, please call us now 1800 5454 22. Our Contracting Consultants are delighted to take you through the options again and can help you determine the right approach for your needs.
Contracting PLUS – Making Contracting Simple
---